AAE expands extensive range of Mahle Alternators and Starter Motors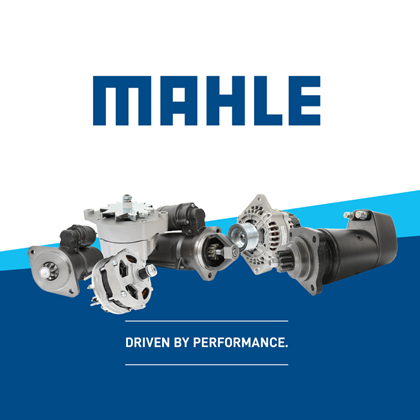 Auto Electrical specialist, AAE Wholesale, is excited to announce it is the new Australian distributor for Mahle products, further bolstering its extensive range of Starters and Alternators.
As a full-range wholesale distributor for Mahle, AAE Wholesale's product range provides a comprehensive selection across industrial and agricultural rotating units for both petrol and diesel engines in trucks, buses, agricultural and construction machinery.
The expansion of the Mahle range, through AAE provides great opportunities for both businesses to the industry.
As an Auto Electrical Specialist we are always looking at ensuring we can provide the right part first time to our customers. Expanding our supply of products from OEM manufacturers, particularly with Mahle, provides improved convenience of availability for the trade.
Mahle Director and General Manager Aftermarket Asia / Pacific Christian Kuechlin said the company has years of industry knowledge and experience in these applications with European quality and history.
Mahle is known as being driven by performance and these products are designed for long life and maintenance-free operation under heavy duty applications.
The brand was previously manufactured and sold under the Iskra name, which was established in 1990.
The alternator product range includes two basic designs regarding the cooling of the electric motor: compact alternators with internal fans and classic alternators with external fans. Individual families of alternators are available with 14 V and 28 V DC rated voltage and output current up to 270 A.
o External fan alternators are specially designed for operation under adverse environmental conditions,
such as dust, mud, salt, high-frequency vibrations, and high electrical and thermal load,
which are standard for agricultural and construction equipment.
o Compact alternators are designed for a wide range of applications where lower noise, compact design,
and operation at higher rotational speeds are specifically required, for example, in automotive
and commercial vehicle applications.
In the Starter Motor range there are various versions ensuring long life under adverse operating conditions. They provide outstanding resistance to salt, fog, humidity, water, dust, mud, vibration, extreme temperatures, and aggressive liquids.
As an Auto Electrical specialist, AAE Wholesale has an extensive range of quality rotating units conveniently available across Australia backed up with technical support to get the right part first time.
To view the Mahle Catalogue, click the image above, right.
AAE have this range available. Check out the range available now via AAEW online or register for an online account here.