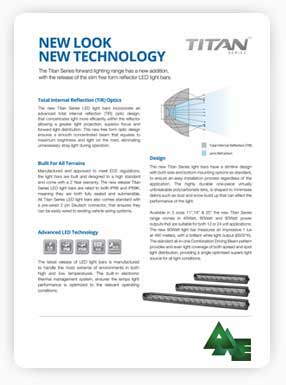 TITAN New Look, New Technology
TITAN New Look, New Technology.
The new Titan series free form total internal reflection LED light bars that set a new standard with advanced technology, innovation and design. Manufactured with total internal reflection (TIR) allows for an enhanced concentration of light, maximising forward light while minimising light scatter. Advanced temperature management technology ensures the light performs with optimal light output in the most extreme conditions. Designed to IP68 and IP69K meaning a fully sealed and submersible light ensuring the new Titan Series LED light bar is built for all terrains. The highly durable one-piece polycarbonate lens is shaped to help minimise debris such as dust and snow that can affect the performance of the light. Available in 11", 14", 20" length with an output of up to 90Watt that measures 1 lux at 480 meters.