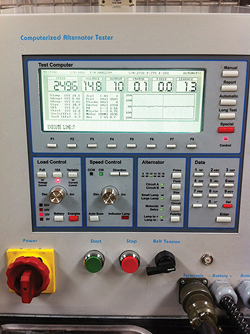 AAEW's DV Tester
AAE has invested in a state of the art ALT-98 Alternator Test Bench. Made in and imported from Toronto Canada by D&V Electronics, AAE employees travelled to Toronto to inspect and train on the test bench before its shipment to Adelaide at AAE's test and report facility.
The Test Bench purchased was chosen for its comprehensive testing and reporting abilities on Alternators including built in and add on modules for the latest computer controlled Alternators. This allows AAE to pre test imported Alternators to attain and maintain the highest quality product available.
It allows quick Automatic and Manual testing of all Alternators (Automotive, Commercial and Industrial), and with the additional module also purchased with this machine AAE also has the ability to test and report on Vacuum pump efficiency.
There are a multitude of different report functions in the machine and it can also be tailored to suit any unit.