Lifeline lithium batteries now available at AAE Wholesale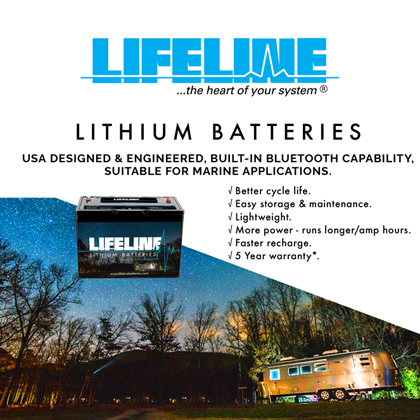 Providing better cycle life, more power to run longer, faster recharging, lighter in weight, and topped off with a 5-year warranty* Lifeline lithium batteries are the new and better alternative.
Lithium Iron Phosphate is the newest lithium tech developed and is one of the safest forms of lithium. They can be used individually or assembled in series and parallel to create a larger system suitable for houseboats, caravans, and motorhomes.
Designed and engineered in the USA and with built-in Bluetooth capability, Lifeline lithium batteries are the ideal drop-in replacement solution for traditional lead-acid batteries.
Applications:
Lithium Iron Phosphate can be used in most applications that use Lead Acid, GEL or AGM type batteries. Suitable applications include:
• RV
• Marine
• Golf cart
• Off road/ overland vehicles
• Solar storage
• Remote monitoring
It is recommended to use an approved charger with a LITHIUM PROFILE setting. AAE has suitable lithium battery chargers available in stock.
To view the Lifeline Lithium product brochure, click the image above, left.
AAE have this range available nationally. Check out the range available now via AAEW online or register for an online account here.