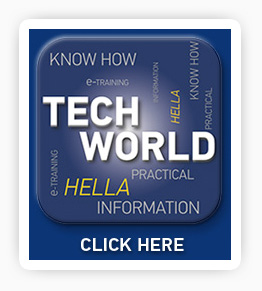 Say Hello To Hella Tech World
Highlighting HELLA's commitment to industry leading engineering support, HELLA TECH WORLD is a specialist knowledge online portal that is completely free to use. Featuring practical advice, technical documents and illustrative videos, HELLA TECH WORLD offers vehicle specific diagnostic and repair advice for over 1,100 popular vehicle makes and models.
Centred on an integrated Know-How Tool, this online training tool provides detailed technical background knowledge and realistic 3D images and animations to expand your knowledge of lighting, electrics, electronics, thermal management and diagnostics – all core fields of expertise within HELLA.
For your convenience, the portal's content is searchable through a specially developed, Google-powered search engine ensuring reliable engineering information is never more than a few mouse clicks away.
HELLA TECH WORLD is a rapidly developing project, so be sure to sign up to our online newsletter to keep up-to-date on the latest additions to the portal.
OUR KNOWLAGE IS YOUR SUCCESS
View the news flyer below: